The Points battle is a dogfight between Ryder Smith and Don Smallwood. Smallwood behind by just 1 point. The next closest driver behind those two is DW Motorsports Teammate Dajon Weeks [-14 Pts Back]. Phadkar [-18 Pts Back] has been on a charge to the front reccently. Texas could shake things up a bit.
How bout them Cowboys?

Stay Tuned for Qualifying Results.

_________________
--------------------------------
"A Perfect World is Never Perfect only filled with lies."

Nick Pericles
Owner & Runner of The VCS
Owner of Red Stallion Racing
Sony Cup Driver of Hero Motorsports - #13
AES Driver of Blue Flare Motorsports - #81
S21 AES Champion - SilverSpeed #83
SCS Wins: 3 - Latest : 2015  Round 29 Of New York
AES Wins: 2
Qualifying Results: Top 10
P # DRIVER TIME
1 12 D Smallwood 25.402
2 43 H Fitzwater 25.404
3 20 H Kazi 25.410
4 29 S Johnson 25.482
5 41 R Rehall 25.491
6 32 Z Fitzwater 25.498
7 31 N Pericles 25.499
8 42 K Allen 25.503
9 8 C Dodd 25.503
10 26 E Phadkar 25.504





_________________
--------------------------------
"A Perfect World is Never Perfect only filled with lies."

Nick Pericles
Owner & Runner of The VCS
Owner of Red Stallion Racing
Sony Cup Driver of Hero Motorsports - #13
AES Driver of Blue Flare Motorsports - #81
S21 AES Champion - SilverSpeed #83
SCS Wins: 3 - Latest : 2015  Round 29 Of New York
AES Wins: 2
I Like To Post A Lot





Posts

: 1795


Join date

: 2015-11-04


Age

: 26


Location

: Sydney, New South Wales, Australia



Results:
Points: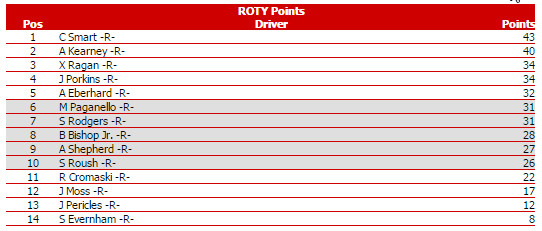 _________________
--------------------------------
"A Perfect World is Never Perfect only filled with lies."

Nick Pericles
Owner & Runner of The VCS
Owner of Red Stallion Racing
Sony Cup Driver of Hero Motorsports - #13
AES Driver of Blue Flare Motorsports - #81
S21 AES Champion - SilverSpeed #83
SCS Wins: 3 - Latest : 2015  Round 29 Of New York
AES Wins: 2
I Like To Post A Lot





Posts

: 1795


Join date

: 2015-11-04


Age

: 26


Location

: Sydney, New South Wales, Australia




---
Permissions in this forum:
You
cannot
reply to topics in this forum