It is another double header weekend for both the SCS and HNS drivers (or it will be for the SCS drivers the week after the HNS race). Many Cup drivers will be running the race in order to prepare themselves for a grueling race on Sunday. Jake West comes off of a win after marching from the back of the field to achieve victory after a wild shootout to the finish. It is Jake West's 4th win of the season, and his 5th overall. TJ Martin comes off after a disappointing 11th place run, and has lost a ton of his cushion as the points leader.

Anthony Marchesi has been lurking in the points and currently is 3rd in the points standings. Some contenders have reeled themselves back into the championship hunt, while others have been fading. New Hampshire is a challenging track in terms of tire wear and its flat surface. It can be beneficial for those that specialize on flat surfaces and short tracks. Flying Aces has added a second car to the entry, the #25 Dr. Pepper Chevy Camaro that will be driven by rookie Ross Jackson, who will be making his Hardee's National Series debut. In the commentating booth, it was announced that Sony Cup Series driver Chris Dodd, who was injured in a brutal crash at Road America, will be the color commentator for New Hampshire, it will be an interesting race to watch, as it is the first time the HNS drivers (a majority of them) will have tackled the 1 mile track.

Entry list for New Hampshire (HNS):

#0 - Hannah Allen (R)
#2 - Matt Daleo
#4 - Jake West
#5 - Sean Harple
#6 - Sean Angel (R)
#7 - Caleb Farrell (R)
#8 - Alex Benyacko (R)
#9 - Chris Louviere
#05 - Alexander Rowe
#07 - Seth Cole
#12 - Blaze McKinney
#14 - Cory Williams
#15 - Jake Rogers (R)
#16 - Eric Demax
#17 - James Richardson
#22 - Jeffrey White (R)
#25 - Ross Jackson
#26 - Hayden Kline
#27 - Bobby Jones
#29 - Max Ludger (R)
#34 - Cody Llamas
#36 - Kyle Keith (R)
#39 - Daniel Olson (R)
#40 - James Shelly
#51 - Rob Evans (R)
#53 - Jon Bunnell
#59 - Jack Hallec (R)
#60 - Aidan Shepherd (R)
#61 - Bradley Bishop Jr.
#62 - Samet Ozkan
#65 - Patrick Smith (R)
#66 - Anthony Marchesi (R)
#69 - Paul Jackson (R)
#70 - Carlie McDowell
#71 - TJ Martin
#74 - Robert Harrison
#81 - Elisheva Stolarz
#82 - Jonathan Wong
#86 - Kyle Basaglia
#88 - John Arndt
#92 - Will Lewis
#94 - Nick Samon
#95 - Jek Porkins (R)
#96 - Eric Monaco (R)
#99 - Vance Caldwell (R)
Last edited by DKurtis on August 30th 2018, 4:13 pm; edited 1 time in total
_________________
"Life can be complicated, but it's an inevitable fate."
-D.J. Kurtis
2 time Sony Cup Series Champion, a HNS Champion (as an owner), and President of the Hardee's National Series
Owner of Kurtis Racing for the HNS (#14, #4), SCS, (#8, #4), and KR Honda for ARCSOA (#9, #48).
Arndt on Pole; West, Allen Struggle in Qualifying @New Hampshire
John Arndt and the CM Racing showed speed in qualifying, starting on pole for the 2nd time this season, beating out Points leader TJ Martin for the pole. Alexander Rowe and the Flying Aces Racing team had a pretty impressive Q run, starting 7th. Speaking of the Flying Aces team, HNS newcomer Ross Jackson had a very impressive run for his first race, and will be starting 16th in the #25 Dr. Pepper Chevy.
Meanwhile, two Championship contenders struggled a bit in qualifying, with Jake West starting 21st and Hannah Allen starting 22nd. It will be interesting to see if they can move their way up through the field at a track that is known to be pretty difficult to pass.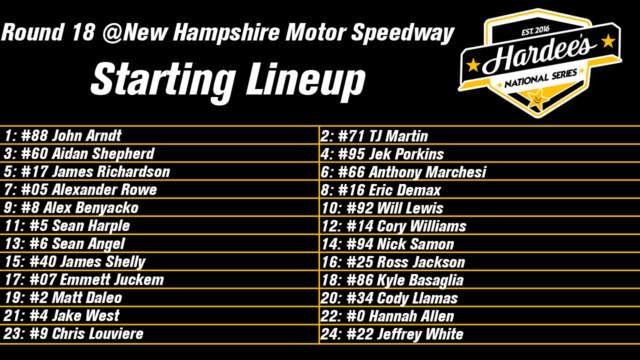 _________________
________________________
Chris Dodd:
2018 SCS: Driver of the #15 Oreo's Ford for Martin Motorsports
Wins: None(Yet
...)
DNF's: Too Many
Amount of Fun: Priceless
Memorable Moments:
1st Daytona 500 win(as an owner); PNOCS S2 Daytona 500!! (As a Driver); 2-Time Daytona 500 Winner
S1 Duraflame National Racing Series CHAMP, S2 Hershey's Cup Series CHAMP, S3 DASCAR Martini Endurance Series CHAMP!
Motto: Always remember... WATCH OUT FOR THE ORANGE CONE!!

CJ Racing

I Like To Post A Lot





Posts

: 1796


Join date

: 2015-12-19




_________________
Nathan Hood

All characters in these works are fictional and should not be taken as impersonation. Thanks.

nhood53

I Like To Post A Lot





Posts

: 1391


Join date

: 2016-06-23


Age

: 18



32nd starting spot for Hallec yikes

FitzwaterAustralia59

I Like To Post A Lot





Posts

: 2324


Join date

: 2015-11-04


Age

: 29


Location

: Sydney, New South Wales, Australia



Pretty nice finish there, TJ continuing to leave his mark!

JJRacer89

Veteran





Posts

: 440


Join date

: 2016-05-12


Age

: 26


Location

: Knoxville TN




FitzwaterAustralia59

I Like To Post A Lot





Posts

: 2324


Join date

: 2015-11-04


Age

: 29


Location

: Sydney, New South Wales, Australia



Similar topics
---
Permissions in this forum:
You
cannot
reply to topics in this forum