Patrick Smith Leads Points
It shouldn't be a surprise that last week's winner
Patrick Smith
comes into the weekend with the most momentum, and the points lead heading into Montgomery, which is unfamiliar territory for the former GT3 racing Canuck.
Deadlock!
After Roman Rehall got a 3 point bonus from posting the fastest lap of the race last weekend, Roman Rehall and Roger Rey are tied for 2nd in points, despite Roger beating out the Ohioan at the line in a three wide finish that saw Patrick Smith take the win.
Last, but not least...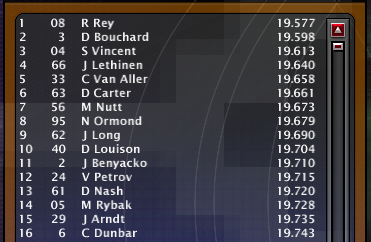 _________________
Sony Cup Series Universe
Free Agent
"To finish 1st, first you must finish" - Scott Roush
SCS Wins: 0
Season 2 PWCOM

_________________
TOTAL WIN COUNT: 23
My one Championship includes something TBA
Primary Character Wins: 15
Secondary Character Wins: 7
Poles: 0
PS3 League Wins: 5
- S1 Best Buy CS @ Las Vegas (first trip)
- S1 Best Buy CS @ Auto Club (first trip)
- S1 Grainger CS @ Dover (first trip)
- S2 Best Buy CS @ Daytona (500)
- S1 Ditech CS @ Kansas (first trip)

Hsuorttocs

I Like To Post A Lot





Posts

: 1717


Join date

: 2016-04-12


Age

: 18


Location

: STALKR



Here's the first two races for those who do not know the channel:
Pensacola
https://m.youtube.com/watch?v=VV25GxqvQgk

Montgomery:
https://m.youtube.com/watch?v=5ZYrdkBDLF8



UndyingLight

Race Winner





Posts

: 309


Join date

: 2017-06-20


Age

: 20


Location

: A horse pasture



Darren Carter: "Well, y'all, this was a great recovery drive for myself in the #63. Fallout Racing needed a good day, an' me finishin' third certainly does help out.
I'm looking forward to steppin' my foot into the door of a place I've never been able to go, and that is, to a higher up series. I've only ever been fleet-footin' around various short track excursions..Ah, yessiree. It is a pleasure for Fallout Racin' to have given me a shot."

Andrew Van Zant (team owner of Thundersport GP): "I do appreciate what my drivers have done for me here in Montgomery. Ciel Van Aller did very well and finished top five, but Stefan Robbins was caught up in a wreck. He could not do very much after that; a far grander of finishes today than at that blasted track Pensacola."



UndyingLight

Race Winner





Posts

: 309


Join date

: 2017-06-20


Age

: 20


Location

: A horse pasture




---
Permissions in this forum:
You
cannot
reply to topics in this forum