From the Bottom to the Top
After finishing last in points with the last place team in constructor's points last season, Roger Rey finds himself leading the points in round 3 with his team in position to take a sizable lead in constructor's standings.
Thaber's Head in Another Sink!
After last weekend's debacle with a sink, Tylor Thaber didn't really seem to learn much and soon found his head in another sink. Elkhart Lake PD and Tylor Thaber have yet to comment on the matter.
Familiar Territory
Ryan Griffin, Roman Rehall, and Alex Benyacko now have the privelege of one-offing (or in Alex's Case, subbing) in a Sunoco Elites Series car, it will be interesting to see whether the 3 will benefit from the experience.
Faith in the Leaf?
After stealing a win from Roger Rey last weekend, and the week before, it appears that the Canadians of both Daniel Bouchard and Patrick Smith have momentum on their side. Can another win come from either Canadian, or will the streak of the leaf be broken this weekend?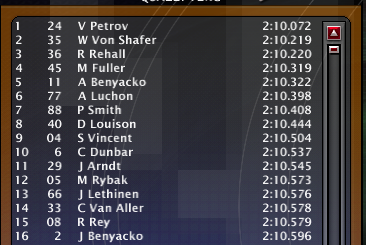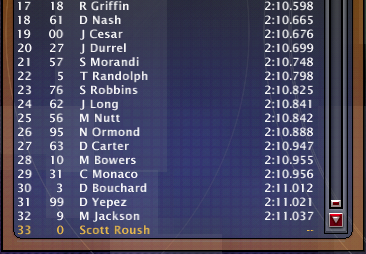 _________________
Sony Cup Series Universe
Free Agent
"To finish 1st, first you must finish" - Scott Roush
SCS Wins: 0
Season 2 PWCOM

_________________
TOTAL WIN COUNT: 23
My one Championship includes something TBA
Primary Character Wins: 15
Secondary Character Wins: 7
Poles: 0
PS3 League Wins: 5
- S1 Best Buy CS @ Las Vegas (first trip)
- S1 Best Buy CS @ Auto Club (first trip)
- S1 Grainger CS @ Dover (first trip)
- S2 Best Buy CS @ Daytona (500)
- S1 Ditech CS @ Kansas (first trip)

Hsuorttocs

I Like To Post A Lot





Posts

: 1717


Join date

: 2016-04-12


Age

: 18


Location

: STALKR



Darren Carter: "If I can grease my own wheels for a second...I have an awful lot of experience on short tracks and speedways....but road courses are somethin' I haven't tussled with in a long while. The last one I drove on was....Mid-Ohio in ahh......1997? That was when I was driving for a Eastern states' series. I aint do very well at Mid-Ohio..."

Carter: "This'll be the very first time on a road course for me in 21 years for actually racing hard to win it. I've been on road courses since, but they've been tuh...to test out tracks and see if I could get a handle on 'em. No heavy set racin.' Road America looks imposin' to me, but I will be tryin' my best out there.
Gee, what have I gotten myself inta'?"

Andrew Van Zant: "Not awful from Ciel Van Aller, but Stefan Robbins needs to get going."



UndyingLight

Race Winner





Posts

: 309


Join date

: 2017-06-20


Age

: 20


Location

: A horse pasture




---
Permissions in this forum:
You
cannot
reply to topics in this forum